Inflatable Boats – RIBs and SIBs – An Introduction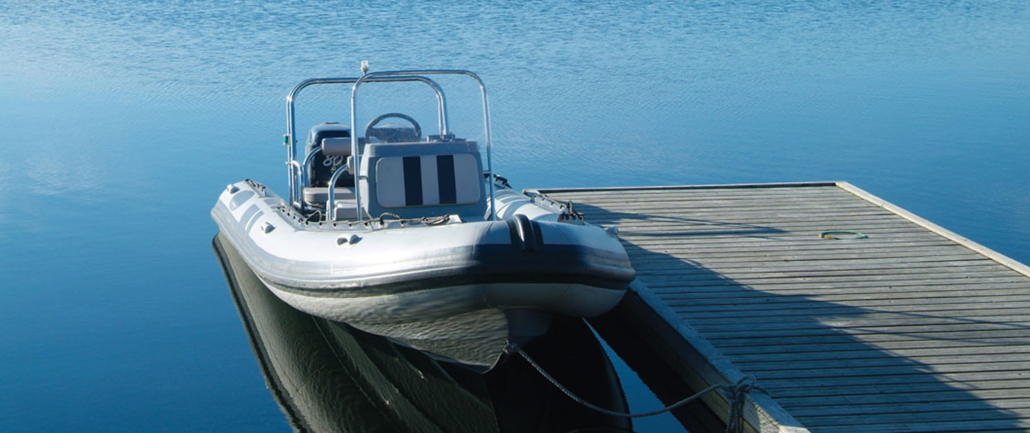 What is a RIB?
RIB stands for Rigid Inflatable Boat. The sides and bow are made of flexible tubes of rubberised synthetic fabrics containing pressurised gas, while the floor and hull are rigid.
The design is stable, light, fast and seaworthy. The inflated sides means that that RIB retains its buoyancy, even if the boat is taking on water.
What is a SIB?
SIB stands for Soft Inflatable Boat. These boats have a soft hull, rather than a rigid one and often have a removable slatted floor. This makes them easier to deflate, transport and store.
What are the key differences between a RIB & a SIB?
The hard hull of a RIB makes it a more versatile and safer boat. The external shape of the hull enables it to cut through waves more easily, giving a more comfortable ride when travelling fast in choppy conditions.
The structure of a RIB's hull is capable of supporting a powerful transom-mounted outboard engine, or even an inboard engine. Some SIBs also have a rigid transom that can support an outboard engine.
SIBs have a low draft, or shallow hull-shape, which is useful for travelling across shallow water and beaching in places without landing facilities. Some SIBs have an inflatable keel to improve the boat's stability.
Inflatable boats are commonly between 2m and 7m long. They are light, so when they are powered by an engine, it is best to put weight in the bow area to prevent the bow from rising when the boat is on the plane.
RIBs are higher performing boats, more versatile and often have storage space for equipment, making them suitable for a wide range of activities.
What are RIBs used for?
RIBs are used for both work and play. They are ideal for safety cover at sailing clubs, for watersports activities or in rescue operations from beaches, and as life rafts. Leisure activities can be anything from days out exploring the coastline or fishing, to water skiing, whitewater rafting or towing inflatable toys.
How can I try out a RIB?
You can take a leisure trip on a RIB, on the Thames, for example, or charter one for the day or weekend. You may need to take a training course first. The Royal Yachting Association (RYA) offers a range of training courses, from beginners to advanced. You may find that your local sailing club provides RIB or powerboating courses as they are used for safety cover.
How should I maintain a RIB?
Regular maintenance is important for your own safety and to avoid unnecessary or unexpected expense. A RIB is exposed to many elements that affect its performance – extremes of temperature, salt water, sunlight and variable fuel quality to name a few.
We'll be returning to this topic in a future blog post, but here are the essentials:
Get the engine serviced annually by a professional
Check the engine oil level and colour
Check there is enough fuel for your trip (plus some contingency) and make sure there are no signs of a fuel leak
Ensure battery connections are clean and tight
Check the propeller hasn't been damaged
Ensure the bilge pump, drain plug and all gauges are in good working order
Flush the engine with clean water after every trip
Do I need insurance for my RIB?
There is no legal requirement in the UK for you to have insurance for your RIB. However, if you want to use or moor your RIB in a marina, harbour or recognised mooring or launching areas then you will need to provide evidence of third-party insurance. As well as third party insurance, look for a RIB insurance specialist who can provide cover for accidental damage, and personal accident cover. Also, make sure you're covered for the intended use of your RIB, for example, water skiing or towing of toys.
Talk to Us About RIB Insurance
If you'd like a RIB insurance policy that has the flexibility to meet your needs, then talk to one of our boat insurance specialists on 01604 946779.
This is a marketing article from Assist Insurance Services, a UK based family run business with more than 41,000 leisure policyholders. Each of our policies provide comprehensive cover as standard, with plenty of optional extras to choose from. For more information about our insurance services, please call one of our boat insurance specialists on 01604 946 779. Alternatively choose your product of interest below to find out more:
To stay up to day with news from Assist Insurance, please like and follow us on Twitter, Facebook and LinkedIn.