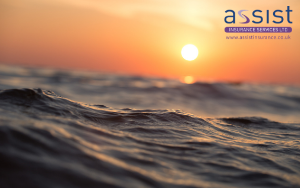 If you live on a narrowboat, or you continue to use it throughout the winter, it's a good idea to review your security practices at this time of year as daylight is in short supply. You may also find that new technology is available and/or more affordable to help you protect your narrowboat.
Some security measures are a requirement of your narrowboat insurance policy, while others will provide you with greater peace of mind. Although your insurance will help to cover the financial cost of a break-in, the emotional cost may be higher. Of course, it depends on how much you want to spend and how worried you are about security, but here is a general guide to narrowboat security.
Hatch, doors and windows
These entry points are potentially the most vulnerable, so make sure that they are in a good state of repair and as secure as they can be.
Doors should be made from strong solid timber and they can have steel skins for extra strength.
Interior wooden window shutters provide additional security as well as insulation and privacy.
Use strong, high-quality window locks and cylinder padlocks, and secure hatches and doors with heavy-duty internal hasps.
Moveable items
If you're leaving your narrowboat for any length of time, take your valuables home with you. If you live on-board your boat, then mark them with an indelible 'invisible' marker and keep them out of site when you're not there.
Keep the shutters or curtains drawn on the towpath side.
If you keep bicycles on the roof of your narrowboat, then use a conventional bicycle lock and chain to prevent them from simply being lifted from the roof.
Lockable roof boxes can be used to store fishing tackle, tools, etc.
Protect your fuel – fit a lockable filler cap.
Security devices
A range of alarms is available for narrowboats and many operate in a similar way to car alarms, powered by a 12V battery. Some alarms will send a text message to you when activated.
GPS trackers can act as a deterrent – they can monitor the location of your narrowboat and notify you and the police if your boat is moved for any reason.
PIR (passive infrared) security lighting is activated when someone approaches and can also be a good deterrent.
Energy-efficient LED lighting on a timer switch can help your narrowboat to look occupied.
Engine immobilisers prevent the engine from being started so a potential thief is unable to move the boat.
Moorings
Firstly, only moor where you feel safe. You may choose to moor in a marina, so check out their security measures.
In urban areas, it's advisable to use chains or steel rope when mooring. As we approach the 'silly season' there's an increased risk of having your boat cast off by people after a night out on the beer. It might seem like a good prank to them without realising the distress it can cause. If you're unable to use a chain, then use a heavy-duty rope and attach cable-ties around the loose ends of the mooring knot so that it's harder to untie.
There is plenty that you can do to improve your narrowboat security, so by reviewing your security measures on a regular basis, you can protect your narrowboat and give yourself some peace of mind.
For more boating and sailing tips and to keep up to date with related news, please follow us on Facebook, Twitter and LinkedIn.
https://www.assistinsurance.co.uk/wp-content/uploads/2018/12/Untitled-design-3.png
188
300
AssistAdmin
/wp-content/uploads/2018/04/assist-insurance-logo.png
AssistAdmin
2018-12-28 11:52:54
2021-03-24 13:00:39
Narrowboat Security