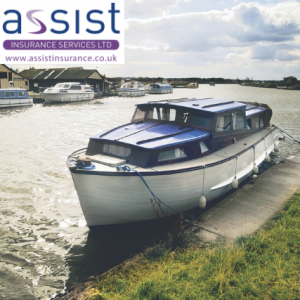 Our marine insurance policies cover all types of marine craft, from dinghies to jet skis, ribs, motorcruisers and yachts. They are sailed on rivers, lakes and seas all over the world. However in this blog post we focus on boating on the canals of Britain. We've found boaters to be committed enthusiasts who are happy to share their knowledge and love of boating. Whether you have a narrowboat, a widebeam or a livaboard, or you're thinking about getting one, here are some of the reasons that our marine insurance customers choose to spend their time boating.
Flexibility of the boating lifestyle
You can choose between continuously cruising – moving about the canal system and stopping in one place for no more than 14 days (according to the terms of a boating licence) or living aboard – residing in one place, such as a permanent canal-side mooring or marina. Alternatively, you can combine the two – perhaps cruising in the spring and summer then staying at a single base during the colder months. It may depend on where you work – having a weekday base then cruising at weekends and holidays or moving to different places depending on your working requirements.
Being part of the boating community
Whether you stay in one place or move around, you soon feel part of the boating community. Many boaters are happy to share their experiences, knowledge and love of boating. The common lifestyle also engenders a feeling of respect for each other and each others' property.
Being close to nature
The canals support a wealth of wildlife and you're in amongst it while you're on your boat. This means that sightings of kingfishers, herons or even otters are much more likely than they would be if you were just out for an afternoon walk. You experience beautiful sunrises and sunsets, and the changing of the seasons. Even in the winter, there's the joy of a sunny day or the beauty of frost on the banks and trees. With a good heating system, double-glazing and insulation, narrowboats, widebeams and livaboards can be very cosy. Good ventilation is also important to reduce condensation.
Economical
The cost of canal boats varies enormously, but if you're downsizing from a house, it's possible to have a lot of cash left over. You can live in some beautiful locations at a fraction of the cost of renting a house or flat. You'll need a boating licence and there are mooring or marina fees and fuel to pay for, but it can be a very economical way to live.
Enjoying simple pleasures
With less room for personal possessions and limited housework or maintenance to do, there's more time to enjoy the simple pleasures in life – like good company, home-cooked food and watching the sun go down. There are also some lovely canal-side pubs to visit! However, you can still benefit from the convenience of modern technology when you want to stay in touch with the wider world.
For peace of mind and value for money, many boaters choose Assist Insurance to insure their boat. We're specialists in the leisure sector and we take time to understand our customers, tailoring our policies to ensure that they meet your needs. Explore our website and discover why boaters insure with Assist Insurance.
To stay up to day with news from Assist Insurance, you can follow us on Twitter, Facebook and LinkedIn.
https://www.assistinsurance.co.uk/wp-content/uploads/2018/09/feefo-news-joysofboating.jpg
348
554
AssistAdmin
/wp-content/uploads/2018/04/assist-insurance-logo.png
AssistAdmin
2018-09-26 14:38:11
2021-03-18 11:34:27
The Joys of Boating